Korean BL Drama
State

less Things (2012)
Summary:
Hyun, who is a gay prostitute. He gets to know Seong-hoon who is a separated fund manager. They begin to live together. But, they collapse after Seong-hoon's wife visited their place. Joon wanders about the downtown streets in Seoul and works for the gas station. Calling for clearance of overdue wages, he fights against the gas station manager. He runs away with Soon-hee, an ethnic Korean. The two boys strive hard to survive, but the Circumstance drives them despair. They decide to commit suicide. One faces death, through which the other meets new life.
We were unable to locate any online links to this movie. You can visit the movie's website at
http://blog.naver.com/jultak201
Rainbow Eyes (2007)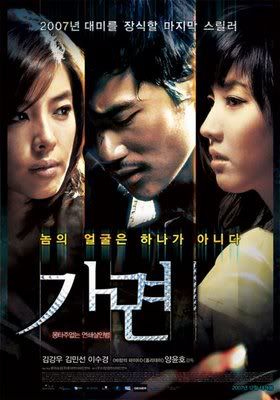 Summary:
Inspectors Kyung-yoon CHO and Eun-joo PARK have been an inseparable duo ever since their police academy days. One day, the two inspectors take on the case of a young rich sports center owner, violently stabbed to death. The only clue to the case is a piece of body hair with AB blood type found at the scene. The two inspectors identify a swimming instructor as a major suspect to the case, but he later gets brutally murdered in the same way. It is later revealed that the two victims and a third party were once in the same army and committed a disgraceful act together. The police see the murders as a serial murder case in revenge for the victim at the time, 'Yoon-suh LEE'. But as the murderer's identity slowly unfolds, inspector Kyung-yoon comes across another shocking mystery…
http://www.sdhaninnews.com/movies_kor/11733
Bungee Jumping of Their Own (2001)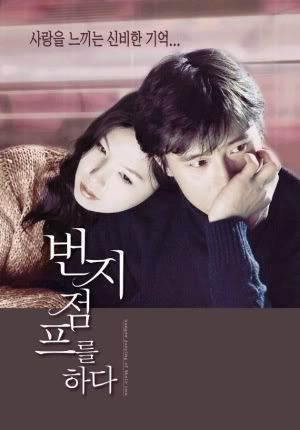 Summary:
After learning that In Woo must leave for his compulsory two year service in the military, the film flashes forward seventeen years to find that the young man has now matured into a confident high school teacher. But as the film slowly reveals, he is married not to Tae Hee, but to another woman. It seems Tae Hee died some seventeen years ago, and through a series of clues, In Woo begins to suspect that a teenage boy named Lim Hyeon Bin is the reincarnation of the girl he loved all those many years ago. Despite being a heterosexual, In Woo begins to fall in love with the student, discovering that true love really has no boundaries. A romantic melodrama at its finest, this brave, deceptively transgressive film handles its tricky subject matter with sparkling grace, culminating in a dark finale that is both tragic and transcendent.
We were unable to locate any online links to this movie. You can buy this movie at the link below.
http://www.yesasia.com/global/bungee-jumping-of-their-own-hong-kong-version/1002844250-0-0-0-en/info.html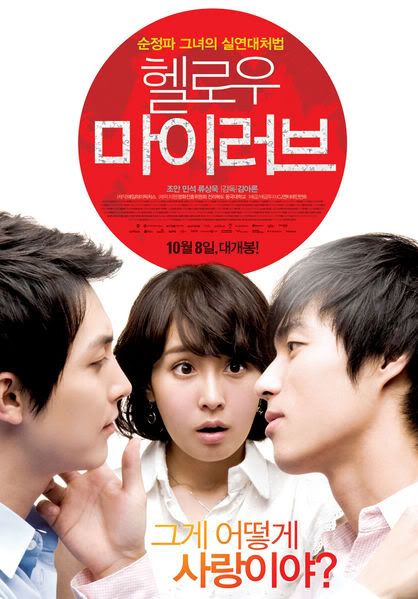 Summary:
Radio host Ho Jeong is eagerly anticipating the homecoming of her boyfriend of ten years, Won Jae, who's been in Paris for the last two years. Practically already a part of his family, she's expecting him to pop the question when he returns. Instead, Won Jae brings back his male roommate Dong Hwa, who seems to never leave his side. Ho Jeong thinks they're just planning to open a wine restaurant together – but it turns out they're actually together. An unconventional romantic comedy unfolds as Ho-jeong tries to win him back from a rival she never imagined having.
Part 1 – http://www.youtube.com/watch?v=LHydgGwE60E
Part 2 – http://www.youtube.com/watch?v=3jzuNY6iRWg
Part 3 – http://www.youtube.com/watch?v=bgG8RJnaIDA
Part 4- http://www.youtube.com/watch?v=BMaweCxKJbI
Part 5- http://www.youtube.com/watch?v=R0qJjM0ruE0
Part 6- http://www.youtube.com/watch?v=uOD-JQmqJLc
Part 7 – http://www.youtube.com/watch?v=p1ZJ2rbq_ww
Part 8 – http://www.youtube.com/watch?v=KsYR6v5loF8
Part 9 – http://www.youtube.com/watch?v=SFVDmWYZuGs
Part 10 – http://www.youtube.com/watch?v=BmTFaPYhSNQ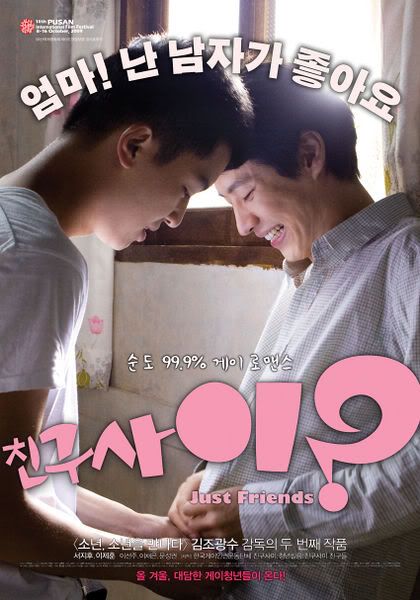 Summary:
In this cheerful romantic comedy about coming out of the closet, Seok-i visits his boyfriend Min-su who is serving in the military. However, they run into Min-su's mother, and explain that they are 'just friends.' One funny episode involves the pair sleeping together, with Min-su's mother sandwiched between.
Part 1- http://www.youtube.com/watch?v=qmxrTqXYN04
Part 2 – http://www.youtube.com/watch?v=CsYDyJy7E9w
Part 3- http://www.youtube.com/watch?v=dtGwShgiOUs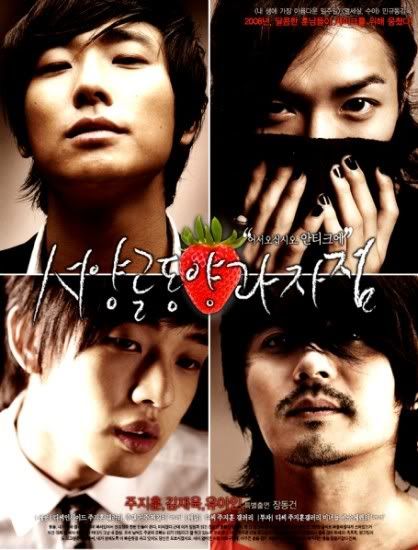 Summary:
As an heir to the family fortune, Jin-Hyuk (Joo Ji-Hoon) has money, the looks, the charm, everything except finding the love of his life. So he sets up a cake shop where women are sure to come. He hires Sun-Woo (Kim Jae-Wook), a talented patissier who had a crush on Jin-Hyuk back in high school. Along with an ex-boxing champion Ki-Bum (Yoo Ah-In) and a clueless bodyguard Soo-Young (Choi Ji-Ho), the four unique and handsome young men stir up the quiet neighborhood at their cake shop, Antique. Although seemingly careless and happy, each of the four men have unforgettable past that they are afraid to face, but their secrets slowly begin to unravel.
http://www.youtube.com/playlist?list=PLBD64E9F4C25F403E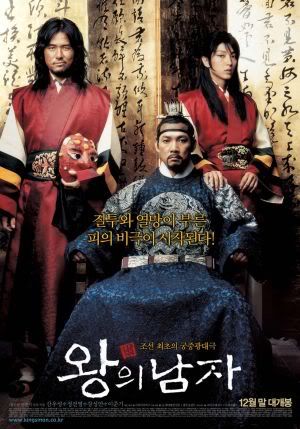 Summary:
Two performing clowns produce a satirical play, which criticizes the country's ruler. While this makes them highly popular amongst the common people, it gets them into a world of trouble with the authorities. The two performers are arrested and accused of treason, a crime that carries the death penalty. The clowns then make a deal with the King if they can make him laugh with their play-acting, he will spare them. They are successful, and become the official entertainers of the royal court. Things become more complicated, however, as the king shows increasing affection towards one of the clowns and they realize that their lives may have begun down an irreversible path. A thrilling drama exploring secret desire in the top echelons of power, King And The Clown is a taboo-breaking cinematic treat that tackles subject matter rarely seen in Korean Cinema.
http://www.youtube.com/playlist?list=PL4EDB7FF0F014B306 (Vietsub)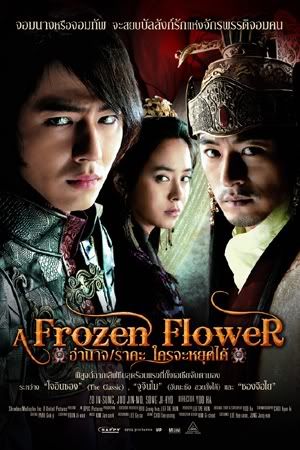 Summary:
Under the thumb of the Yuan Dynasty, the Goryeo King is pressured to either produce an heir or name his cousin the Crown Prince. The King's true love, however, is his chief bodyguard Hong Lim, and he has never so much as touched the Queen. The King instead asks Hong Lim to sleep with the Queen, believing his problems to be solved as long as a son can be produced. But Hong Lim and the Queen's sexual encounter marks the beginning of a dangerous and passionate triangle of forbidden love, jealous rage, and heartbreaking betrayal.
Part 1- http://www.youtube.com/watch?v=XCWKc_sBz1I
Part 2 – http://www.youtube.com/watch?v=2UAIWJ_Binc
No Regret (2006)
Summary:
Turning 18 years of age, Su Min leaves his orphanage and moves to Seoul, working various jobs to save up money for university. After losing his job at the factory, Su Min ends up working as a male escort at a gay bar. Already close to hitting rock bottom, Su Min's life gets both more chaotic and more meaningful when Jae Min walks into his life. Coming from a wealthy, conservative background, Jae Min keeps his sexual orientation hidden from his family. Although he is already engaged, Jae Min is willing to give up everything to be with Su Min, and the two fall into a passionate relationship. But when the realities of life catch up, love may not be enough.
We were unable to locate any online links to this movie. You can buy this movie at the link below.
http://www.amazon.com/No-Regret-Kim-Dong-Wook/dp/B001OSC4BK/ref=sr_1_1?ie=UTF8&qid=1369716391&sr=8-1&keywords=no+regret+movie