Philippines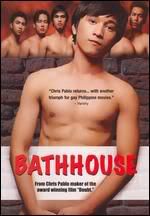 Summary:
 Bath House, as the name suggests, is centered in a Bath House which most gay men are familiar with. For the uninitiated, bath house is a place where gay men go to relax, cruise, and hook up with other men. The main character of the movie, Rico, is a young campus, gay, pinoy boy who is coming to terms with his sexual identity. He wants to fall in love, and not be like the rest of the gay men he knows, who sleep with a different sex partner each night. He happens to meet charming heartthrob Cris one day on the bus, who gives him a discount to get into a gay bath house. Rico is smitten by Cris and decides to pop by, hoping to meet Cris in there. Rico steps into the world of towel clad men and back room sex, and meets Cris in there. The chemistry between them is tangible and intense. After that night, Rico thinks that Cris is the one true love that he has been waiting for, while Cris thinks otherwise. Cris is the biggest player in the bath house and he continues he conquest at the baths. Rico is forced to go through a roller coaster ride of love, heart ache, jealousy and infidelity, as he hangs on to the pure and simple love he hopes to share with Cris.
http://www.youtube.com/playlist?list=PLCFFDFB1417EE3B45 (no subs)
Macho Dancer (1988)
Summary:
Macho Dancer is a film that explores the lives of teenage hustlers fighting to survive in Manila`s seedy red-light district. Paul is a gay boy in the country living his life with his American lover. However, his American lover has to return to the states and he decides to hand Paul over to a friend. Not really crazy about the arrangement, Paul heads off to Manila with a friend, seeking a better life. Upon arrival, he finds himself becoming a Macho dancer (go-go boy) who serves the needs of the hungry gay community in Manila. There he meets Noel, who becomes his friend and guide to the shadowy gay life in Manila. Paul brings us through the world of male strippers, prostitution, sexual slavery , police corruption in Manila.
http://www.youtube.com/watch?v=F-MiJqKmJQI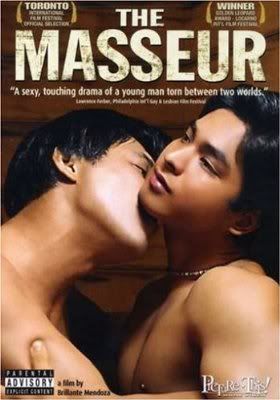 Summary:
Iliac is a young guy who has moved from the country side to Manila, and is now working in a gay massage house in Manila in order to earn a living. His job as a masseur includes catering to the whims of his clients, which often include sexual favours. The movie introduces us to the seedy world of gay massage parlours, where we see the masseurs servicing their clients in adjacent cubicles. In the movie, Iliac meets Alfredo, a romance novelist who is his first customer of that evening. Over the massage, they each share a little of their stories and we soon find out that Iliac must return home to prepare for his father's funeral, who has died after a long illness. As the movie progresses, we find our love lorn protagonist trying to win the affection of Alfredo.
http://www.watchmoviee.net/free-online-movies/watch-the-masseur-2005-online-free
Summary:
This digital feature is a homoerotic journey in finding one's true self. Mateo has been searching for his father who left when he was five. His search leads him to Lobo, Batangas only to discover that his father is in Dubai. Awaiting his father's return, Mateo works as the caretaker of Lobo's lighthouse. Here, he meets Jerome, a gay man from the city. What ensues soon after the meeting is the beginning of his homoerotic journey. As this new friendship develops, Suzet, Mateo's girlfriend continues to struggle for his love and attention. What begins as a search for one's father evolves into a search for one's self. Will Mateo, in the midst of his conservative rural community, cross the thin line between being straight and being gay? This story is a search for oneself as seen through the lens of rural homosexuality, myths and fairies and the lies that people create to escape the bitter realities of life.
Part 1- http://www.dailymotion.com/video/x8hr6x_tmitlh00p1_shortfilms
Part 2- http://www.dailymotion.com/video/x8htgt_tmitlh00p2_shortfilms
Part 3- http://www.dailymotion.com/video/x8i41x_tmitlh00p3_shortfilms
Part 4- http://www.dailymotion.com/video/x8i528_tmitlh00p4_shortfilms
Part 5 – http://www.dailymotion.com/video/x8ia0e_tmitlh00p5_shortfilms
Part 6- http://www.dailymotion.com/video/x8iaa6_tmitlh00p6_shortfilms
Summary:
A look at love and life in the Philippines' gay community, DOUBT is an absorbing feature film from director Crisaldo Pablo. Cris and Erik form a burgeoning relationship but cannot trust each other enough to fully commit to a future together. Meanwhile, Addi cannot shake off the relationship he enjoyed with his former boyfriend, and to make matters more complicated, his female best friend Azel is developing a crush on him. All of this adds up to a compelling drama that shows how similar relationship experiences can be regardless of country, race, or sexual orientation. An excellent feature about a young gay couple being torn apart by infidelities and jealousy.
http://jonathanorbuda.blogspot.com/2011/08/duda-doubt-full-movie.html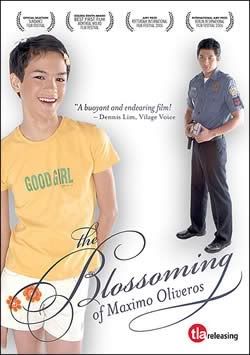 Summary:
Maxi is a 12-year-old effeminate gay boy who lives in the slums with his father and brothers who are petty thieves. Maxi behaves like a girl, wearing clips in his hair and bangles on his wrists and even wearing lipstick. He is teased by neighbors and former school friends. His sexuality is, however, fully accepted by his two brothers and by his father.The story primarily revolves around the conflict between his love for handsome young police officer Victor, and his family's illegal livelihood. Neo-realist in orientation, the film is a tale of lost innocence and redemption amidst the poverty of Manila's slums.
http://www.youtube.com/watch?v=Z42YxfR7-LI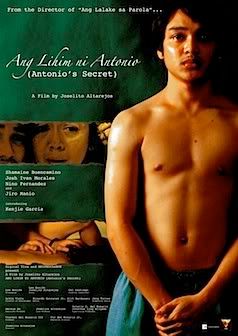 Summary:
Antonio is a curious fifteen-year-old boy who is beginning to come to terms with his own sexuality. Although his straight best friend, Mike has been supportive of his coming out, his first sexual conquest has led to the destruction of his friendship with his other best buddy, Nathan. Antonio's exploration of his identity unfolds as his family begins to break up. His altruistic mother, Tere is in complete denial that his father has already abandoned them. A shocking tragedy begins to spiral up as Antonio meets his hedonistic uncle Jonbert, who becomes the boy's sexual obsession.
http://jonathanorbuda.blogspot.com/2010/06/ang-lihim-ni-antonio-complete-movie.html